Hk45c 45 Colt V7 LEM 3.9"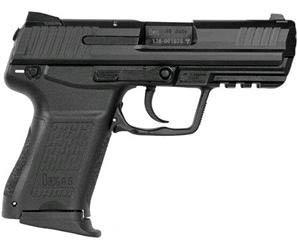 | | |
| --- | --- |
| Available | At Warehouse |
| MSRP | $84900 |
HK45C 45 Colt V7 LEM 3.9" 8+1 Syn Grips Black Finish
Smaller in length and height than the standard HK45, the HK45 Compact (HK45C) uses a slim-line grip profile, otherwise is nearly identical in features to the full-size HK45. Like the HK45, the HK45 Compact was developed as a possible candidate for the Joint Combat Pistol (JCP) and Combat Pistol (CP) programs administered by the U.S. military in their search for a service handgun. These programs were suspended before completion and no pistols were selected. The HK45 Compact uses an HK proprietary O-ring barrel for precise barrel-to-slide lockup and optimal accuracy. HK45 barrels are made using the famous HK cold-hammer forging process for superior performance. Using HK's unique internal mechanical recoil reduction system reduces the recoil forces imparted to the weapon and shooter by as much as 30%, improving shooter control during rapid firing and increasing component service life. Variant 7 is a double action without control lever (no manual safety/decocking lever).
Item Info
| | |
| --- | --- |
| Item | 24618-5 |
| UPC | 642230248861 |
| Brand | Heckler & Koch |
| Model | HK45 Compact (V7) |
| Mfg No | 745037A5 |
| Caliber | .45 Colt |
Tech Specs
| | |
| --- | --- |
| Type | Pistol |
| Action | Double |
| Barrel Length | 3.9" |
| Capacity | 8+1 |
| Safety | No Manual |
| Grips | Synthetic |
| Sights | Fixed |
| Weight | 1.78l bs |
| Frame Finish | Black |
| Frame Material | Polymer |
| Slide Description | Black |
| Case Type | Hard Plastic |
| Barrel Finish | Black |
| Purpose | Personal Protection |