H&K Hk45ct V7 45 Colt 4.57"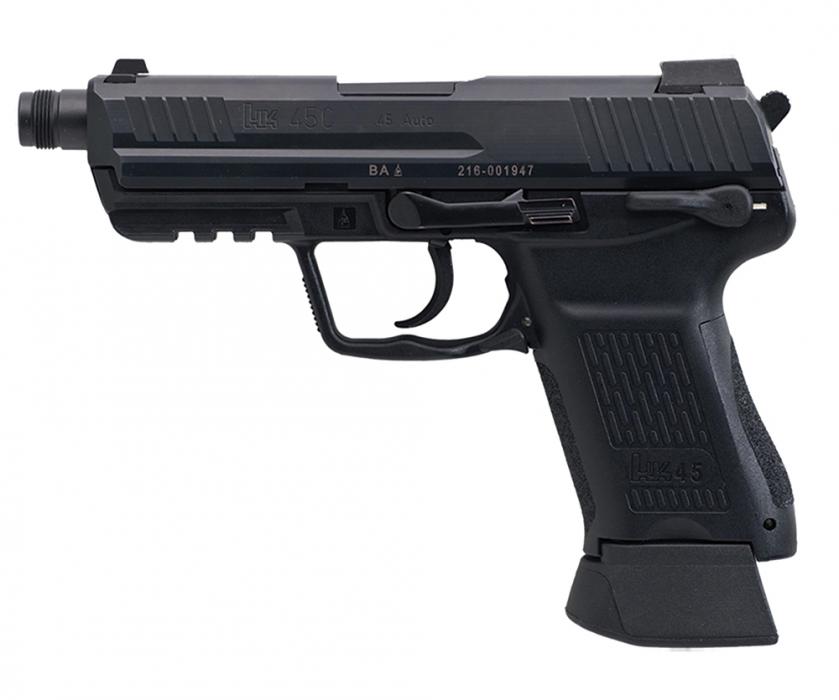 | | |
| --- | --- |
| Available | At Warehouse |
| MSRP | $1,02900 |
H&K HK45CT V7 45 Colt 4.57" 10+1 Synthetic Grips Black Finish
The HK45 Compact Tactical builds on the tough, military lineage of the Heckler & Koch HK45 series of handguns to devise the ultimate operator s pistol. The HK45 pistol series (compact and full-size models) were chosen as the first firearms made at HK's American manufacturing facility so it is only fitting that a modified variant would be adopted as the pistol of a major U.S. special operations unit. The HK45 Compact Tactical (CT) is the closest a civilian can get to that military pistol. The HK45 CT comes standard with a threaded barrel, 10-round magazine with extended floor plate, and replaceable grip panels to adjust the feel and grip circumference of the pistol to suit individual hand size and shooting preferences. The HK45 pistol series were originally developed as candidates for the U.S. military next generation handgun competition so there is little wonder that the HK45 CT is so well-suited for military, law enforcement, and security use. Each HK45 CT comes standard with an extra back strap for a custom fit for each shooter's hand. Variant 7 is a double action without control lever (no manual safety/decocking lever).
Item Info
| | |
| --- | --- |
| Item | 24609-5 |
| UPC | 642230249073 |
| Brand | Heckler & Koch |
| Model | HK45 Compact Tactical (V7) |
| Mfg No | 745037TA5 |
| Caliber | .45 Colt |
Tech Specs
| | |
| --- | --- |
| Type | Pistol |
| Action | Double |
| Barrel Length | 4.57" |
| Capacity | 10+1 |
| Safety | No Manual |
| Grips | Synthetic |
| Sights | 3-Dot Fixed |
| Weight | 1.82 lbs |
| Frame Finish | Black |
| Frame Material | Polymer |
| Barrel Type | Polygonal Rifled |
| Slide Description | Black |
| Case Type | Hard Plastic |
| Barrel Finish | Black |
| Purpose | Personal Protection |